HARMONIA WELLNESS CENTER PROUDLY PRESENTS
SHERRI BAPTISTE WEEKLY CLASSES
WHEN: STARTING JANUARY 15, 2017
• TUESDAYS: 10:45–11:45 am
Yoga with Weights: Baptiste Method
(geared to all levels - beginners welcome)
• SUNDAYS: 10–11 am
Power of Yoga with Sherri Baptiste
(all levels)
WHERE: Harmonia - 2200 Marinship Way, Sausalito, CA 94965

CLASS FEE: Drop-Ins are Welcome: $20 per class, or three classes for $50

TO RESERVE: Call (415) 332-1432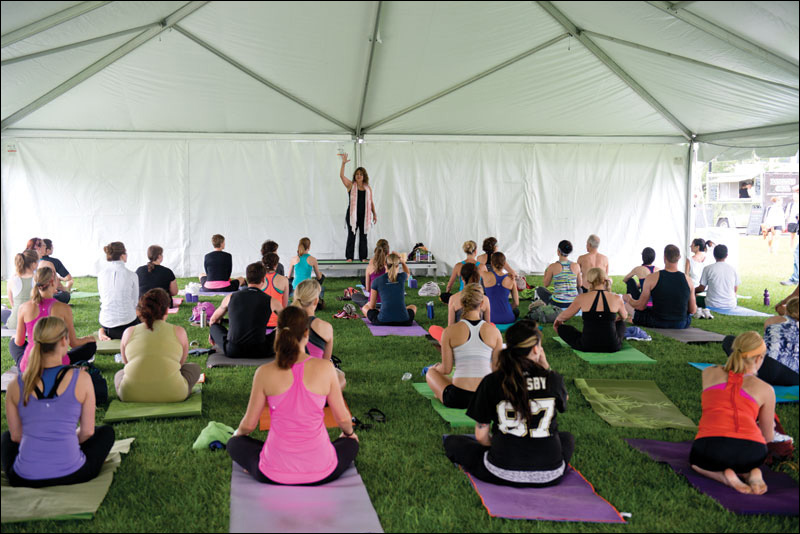 POWER OF YOGA CLASS with SHERRI BAPTISTE - Sundays 10–11am
(for all levels of ability)

Nationally recognized yoga expert Sherri Baptiste skillfully and gently guides you through a dynamic flowing yoga practice that includes postures (asanas) held in accurate alignment. The series offers seamless transitions between the postures using flowing breath- based movements. You will experience practices of Hatha Yoga, breath work, and guided meditation.

Work at your own level of ability and never force - Sherri Baptiste
YOGA WITH WEIGHTS: Baptiste Method - Tuesdays 10:45–11:45
(all levels - beginners welcome)

Yoga with Weights, the ultimate anti-aging system, you'll practice the mindfulness and core ideals of yoga with the physical culture and science of bodybuilding. 'Yoga with Weights' integrates the best of both disciplines building core stability, bone density, and balance. The exercises stimulate muscle toning, lean muscle mass, balance, metabolism, strength and coordination. Benefits are felt immediately and your body feels great.
About Sherri Baptiste

Sherri Baptiste is an inspirational teacher at the forefront of training in America. She is the author of Yoga with Weights for Dummies also Yoga All in One for Dummies (Wiley Publishers 2015), daughter of the American yoga and physical culture pioneers Magaña and Walt Baptiste, has been associated with yoga since she took her first baby steps or assumed her first lotus position, whichever came first. Her parents were renowned yoga-health-and fitness-teachers, and she followed in their footsteps, founding Baptiste Power of Yoga, a nationally recognized yoga method. A top expert in her field of health, fitness and wellness she is an inspirational teacher. At the forefront of yoga training in the United States and Internationally Sherri's way of teaching is accessible to everyone; offering depth, renewal, dynamic results, and inspiration. She leads Baptiste Power of Yoga and Yoga with Weights online teacher training programs recognized by Yoga Alliance.

www.powerofyoga.com